It's been fun but it's time to go!
Seattle has been on my list of places to live for the longest time ever. Even as far back as when I was working at Home Depot in Sunnyvale. Yes, that long! I chose to venture to the Pacific Northwest during such a time to refocus and have some real quiet time. "Quarantine" wasn't enough. It's always nice to go somewhere where nobody knows you, and I mean not one thing about you.
Nobody knows your car, where you hang out, and you do not expect to hear your name yelled out on the street. It gives you a real opportunity to do some soul-searching. It also allows you to see who you are without all of the attachments and titles you have been given. Does that make sense?
Sometimes you have to be quiet to find your voice.
Before I headed this way, I set a list of goals and accomplishments that I needed to achieve while I was here. Gladly I'll share that I've completed them all, maybe a few kinks here and there, but nothing that's holding me up from moving forward. On top of those goals, I even managed to squeeze in a few extra projects. It's amazing what you can do when you remove yourself from your comfortable environment.
They were also the more exciting accomplishments. For example, getting into cryptocurrency, getting over my fear of bridges, a drunk tattoo session, and some shenanigans to boot.
Yes, before I moved to Seattle, I had an extreme fear of bridges. Nothing that would keep me rooted to one side of the Bay or the coast, but definitely some deep breathing moments. It never even crossed my mind as I drove up the coast that I was headed to a city built around bridges and water! The phrase sink or swim seems to be pretty appropriate here.
Waking up to snow was exactly what I thought it would be. Magical. I didn't want to go to sleep, instead I wanted to watch it all pile up and turn the town white.
The bucket list is now short a few items. Living in Seattle and living in a prominent city skyline. It's going to be cool to be able to look back at any picture of Seattle and say to myself, "I lived in that building."
The apartment I was in was perfect for me! The corner unit with windows, damn near floor to ceiling. I felt like a cat in the window watching people on the street. It was definitely close to living in New York. On the weekends, I will definitely miss the occasional "Fuck yeah Seattle" drunk hoorah.
I learned a few things I like about living here that I can see wanting to replicate in other cities. I do not mind the rain to start, I love living next to the market, and there's nothing like waking up to the foghorns from the fairies crossing the Bay in the morning.
The seagulls swirling around my windows in the morning will be missed for sure. There was one seagull that would perch at the top of the street lamp, peering into my window, judging me. Yes, I'll miss him too.
SALADS ARE FOR CALIFORNIA


It's so funny that most of the population and people I met here think California has better restaurants. Little do they know it's the opposite! I did some excellent eating while I was here, and there weren't too many salads on the menu! It's too cold here for salads, and to tell you the truth, I didn't miss them.
It's going to be hard to say goodbye to some of my favorite spots. I don't know what I will do without a Le Panier, Toulouse Petite Kitchen, or a Serious Pie! I have my favorite places in California, but I truly believe the quality of food is better here in Washington. It probably also has to do with my proximity to the market. Every friend that came to visit gets on their return flight with a full belly and no complaints about the food tour they were taken on.
Everybody complains about the weight they gained during Covid. I'm sure my weight gain (20lbs) was purely a location and not a pandemic thing.
Traveling as much as I do, I have become pretty dependent on Yelp. If you want to check out the places I ate, read my reviews, and see some foodie photos hit the picture below. Friend me if you can! I'm always looking for a fellow reviewer to follow.


THE JOY OF COOKING... AGAIN


It happens to all of us. At some point in our lives, we love cooking. Then slowly, whether due to a relationship, kids, or a stressful job, the joy of cooking is no more. When Deal or No Deal was on hiatus, I would stay home binge Paula Deen cooking shows (shhh… I don't want to hear it), then head to the store and cook everything she had made. I LOVED cooking.
During the holidays in L.A., if you're on a working show or on hold for a job, you will not be going home for honey-baked ham and greens. Instead, you'd be heading over to my apartment for what was dubbed Homeless Holiday Dinner.
Turkey, sides, drinks, pie, and more, all made from scratch. There was even a meticulously planned schedule so that everything would come out in perfect timing.
Then things changed for more than one of the reasons listed above. Cooking became a chore and almost a punishment. Every attempt was made to salvage the pastime I loved. The food delivery meal plan, cook it yourself thing, tried it all and to no avail.
This will sound odd, but I'm going to have to thank TikTok for getting me back in the kitchen. The recipes on this app come at you fast and quick! These recipes are basic and simple but yet create crazy delicious meals. That's how it all started. That's how I got back into cooking. Obviously, during the pandemic, we had to eat at home more often, but I wanted to make sure that I kept that up as the world begin to open.
Now I can happily say that most of the time, when I eat out, I realize I could've done better at home. That is if I'm not at one of these fantastic restaurants listed on my yelp profile. These food pics from my kitchen may not look appetizing to you but trust me, they were good enough to start a food picture trend.
(Be glad I didn't share these on IG, lol)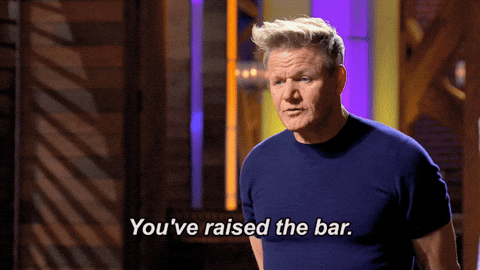 What will I do without H Mart, the local Asian market conveniently located right across the street from my building? Sure, there are other markets, supermarkets, and farmers' markets, but they don't come with a cute Harajuku-style owner. Can I even get Kewpie Mayo in Southern California and my shin ramen?
You know I can't go on without mentioning the market! I think I've definitely become a bit of a market rat. I cut through it on our daily walks, and Lucius has become a familiar face to the local merchants. He's now known as the dog in the little red jacket.
I will miss the end-of-the-day deals and the fantastic cuts of meat from the butcher. Imagine having restaurant-quality produce and meat one block from home. The market will surely be missed.
YOU JUST HAVE TO MAKE FRIENDS


Use Yelp, talk to strangers, follow social media pages about the city, and hit the pavement. Maybe one day walk all the way down the left side, the other day walking all the way down the right. The name of the game here is to make a friend – or at least start a conversation.
One night I decided to walk with my dog and came across the local whiskey bar. There was a guy around my age sitting outside with his dog. Even though it was cold, I decided to stay out with the dog people. Of course, dog people ask names and ages, so it didn't take long before a conversation began. That's all it took. A few weeks later, I got an invite on Instagram to hang out at the local bar for Saint Patrick's Day, and the rest is history.


That one person introduced me to two more people, who introduced me to two more people! By the end of my stay, I had a pretty cool group of friends, all with different upbringings and backgrounds. Most of them were much younger than I am. It was fun to watch 20-year-olds do what they do. It's like watching other people go through the same growing pains you did. No judgment, very reminiscent.
A new city can feel pretty lonely, and for those who have wanted to move away from home but are scared to make the leap, I assure you, you just have to make a few new friends.
LET'S TALK POLITICS... UGH!


Some time ago, I made friends with two guys in Mexico at a resort by the pool. We shared our stories and came to find out they were on their way to Los Angeles, and I was on my way to Seattle. We were switching cities.
We traded tips and tricks on how to get by, and the one thing I will never forget was them telling me Seattle was filled with nothing but fake liberals. What does that mean? From what I saw, it means they smoke weed and support the LGBTQ community, but anything past that, you are pushing it.
In California, there are so many different types of people. Looking back, I don't think I ever experienced real racism. Not growing up in the Bay Area and not in Los Angeles. In fact, I don't think I was truly accepted in the black community until I moved to Los Angeles. (So maybe a little racism)
It wasn't until I came to Washington where I saw, heard, and experienced first-hand acts of racism. The community here is so used to it people let it slide. It made me very grateful for the melting pot that I come from.
In the Bay Area, it's male friends who are friends with men who hit/abuse women. You gotta go.
In LA, it's people who fall through on business and can never truly show up. You gotta go.
In Washington, it's people who are okay with racist microaggressions. You gotta go.
Every single one of these cases justifies itself with, "but I know him, it's different, he's a really good guy."
You gotta go.
Next up on the soapbox, California.
Will you pull it the fuck together!
The news is always a good indicator of where you are demographical.
Newscasts in Los Angeles usually have sized twos and have had one or two beauty procedures done to their face. Head to the Midwest, you'll see something a bit different. Their bodies look comfy, a little bit more relaxed and relatable than the on-air journalists in California. The news also reflects the view of the state that you are in.
Maybe there are subtle jokes here and there that the locals can relate to. Now I have spent a lot of time in different places. The one thing that is always the same amongst them all is that states view of California.
Over the past year, where I go, and people ask where I'm from, they want to know what it's like coming from the shitshow. Seven states, two countries, France and Equatorial Guinea, refer to California as the shitshow. Congratulations.
To put it in perspective, how's this? We have all seen the Karens in action, but did you know that the highest percentage of these temper tantrums come from California?
We are the number one state for Karens! How did that happen? You would think Florida, but with a measly 4% of incidents, California wins with a whopping 26%. What is going on?
We all talk so much crap about Florida, but in reality, we're just like Florida. Don't believe me? Ask the other 48 states.
Before, I was a proud California native, but I'm not too sure these days.
I'M GOING BACK TO CALI


And I didn't think so... Yes, after talking all that mess, here goes!
It's sixty-one degrees and overcast. I'm sitting outside on the water with holes in my jeans, and I, the Californian, am not cold. My bowl of chowder is on its way, and my oysters are being shucked. It's late July, and nothing in Washington is on fire. The plants are still green.
Rent is cheap, the air is clean, and there's plenty of water. I haven't used my inhaler once. Those are just a few of the reasons I did not see myself heading back to Cali.
After applying for jobs everywhere from Oregon to Illinois, I finally made a connection in California. On top of that, magazine work is finally coming back. The day after I accepted the new position in California, you'll never believe – I got a job offer here in Seattle. That's always how it works, isn't it?
The new gig is the first time I'll have the opportunity to truly flex all of my skills. The networking opportunities are out of this world, and I can't wait to get this on my resume!
We've all heard the saying you can't live your adulthood where you lived your childhood. Many of my friends have stayed in the Bay Area and have proven this theory wrong. In my situation, I left so young that nobody got to see me do the growing up; therefore, it never happened. There are very few in my hometown that take me seriously when being a creative or a photographer. Of course, it doesn't stop them from calling me for free help.
Southern California is different. They only know me as a creative and mother f'n hustler (insert E-40 voice here). Los Angeles hustles harder than The Bay, yeah… I said it.
I've lived in both places for equal amounts of time, 20 years. The Bay set the tone and laid the foundation, but Los Angeles honed the craft. So to hustle one more time, I go. There's one general goal, this move has to be the second to last move. Go to L.A., make that money, and buy a home. I've been dying to decorate!
Seattle, I fell in love, and I'm coming back. That's the plan. A home base is in need.
First thing on the California agenda, Goorin Brothers. They don't have a location in Washington, which means I haven't tried on a hat in damn near a year! Plus, hat life can't exist here. It's too wet! Second on the list, Sugar Fish! I already know what I'm ordering! Last up is going for a cruise on Venice Beach. The writers café will also be a sight for sore eyes.
SO THAT'S IT


The trek back to California is going to take 18 hours and more than 1600 miles. It makes me think back on the song my dad and I sang together all too often. The song I learned how to whistle to.
"Two thousand miles I roam, just to make this dock my home."
Seattle was the perfect place to regroup during covid. Compared to Cali, it's an entirely different style of life. Or maybe that goes only for Los Angeles. Once you leave SoCal, it's an entirely different lifestyle. That's what I should say.
What will I be bringing back from the Upper Left Coast? Enjoying the outdoors with friends and weekly dinners together at home. We don't spend real time together in L.A. The occasional meet-up during the week for a cocktail or two is friendly, but can you believe I've never been to the houses of some of my closest friends. 15 Years and I have no idea who they are outside of happy hour; that's nuts!
I'll be bringing back a head of naturally curly hair and a love for my indecisive and unruly locks.
We'll see what happens with my confidence. It's been on the rise out here, but here I also have had the space to be new and be myself. The question is will this change once I go back into the casting room and into the shark tank? Will it change when I enter the toxic energy of the entertainment industry? I'm hoping not. Only time will tell. Maybe, just maybe confidence will intensify instead of deplete.
Also in tow is a new list of goals for myself and boundaries for others.
So that's it. I've spilled my guts. I'm pressing send and driving off. I'll be brave until I leave the garage and the door closes behind me.
The umpteenth time and I still cry when I leave.
Thank you for it all. Thank you, thank you, thank you. Bye for now.